EUROPE
Let's check the death rate during the last four weeks in the European Union (EU), the European Free Trade Agreement (EFTA) zone, the United Kingdom and the USA.
The graph shows the daily mortality per million inhabitants on the y-axis and the cumulative mortality per million inhabitants on the x-axis since the start of the epidemic. The name of the country in ISO-3A code is next to the most recent data. It should be noted that all-cause mortality is in the magnitude of 20 to 30 per million per day.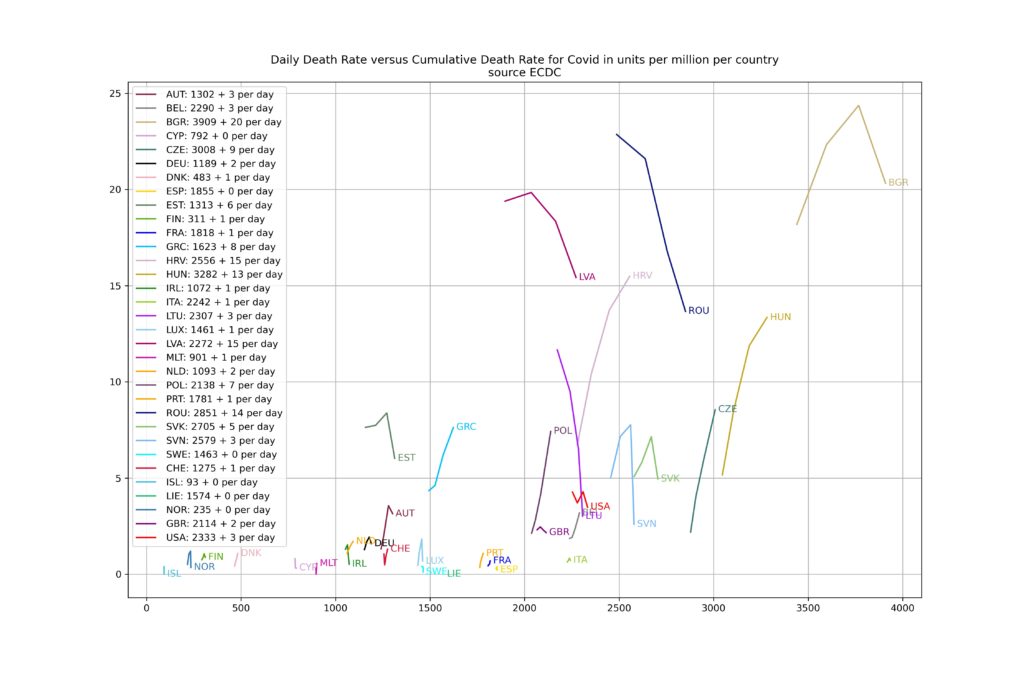 Bulgaria, Latvia, Croatia, Romania and Hungary remain at very high rates but Romania and Latvia rates have finally started decreasing for the past three weeks.
Estonia, Greece, Slovakia, Lithuania, Poland and the Czech Republic are still high.
In all other European countries, mortality is less than 3 per million inhabitants, or less than 10% excess mortality. In these countries, apart from Belgium and Austria, there is no upward trend.
OECD
The death rate in the last four weeks in the OECD countries outside the European Union are on the graph below.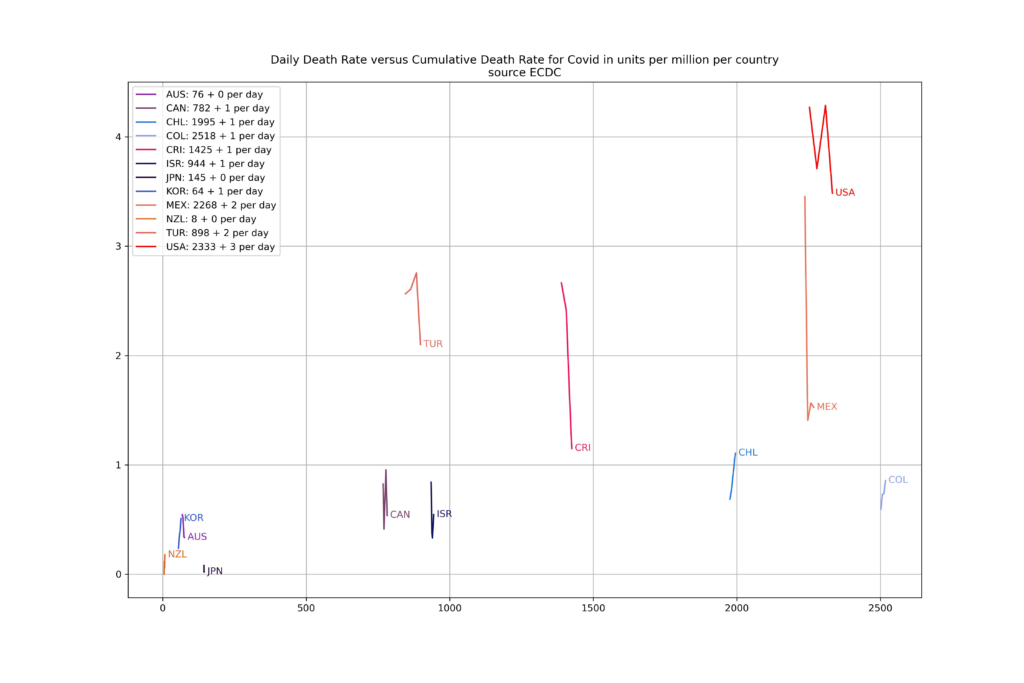 All these countries are below 3 deaths per million per day with the exception of the USA that are below 4.
CONCLUSION
There is still active in Central and Eastern Europe.
On a worldwide basis, above 10 deaths per million per day , there are Bulgaria, Georgia, Latvia, Croatia, Ukraine, Romania, and Hungary.
Between 3 and 10, Estonia, greece, Russia, Poland, Slovakia, Czech Rep, Austria, the USA, Belgium and Slovenia.
All other countries are reporting below 3 !
If Bulgaria has a low vaccination rate at 47% (meaning only 23% of double vaccination), Hungary is at 141% or 70% of double vaccination comparable to Luxembourg or the Netherlands where there is a low Covid death rate.